Pemphigus vulgaris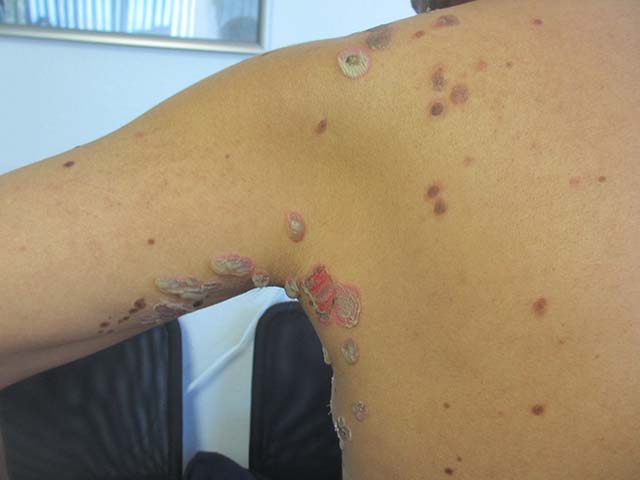 Natasha Cowan, University of California, San Diego, and Brooke Resh Sateesh, MD, San Diego Family Dermatology

Pemphigus is an uncommon autoimmune condition in which circulating autoantibodies against intercellular adhesion molecules result in acantholysis, or loss of keratinocyte adhesion. There are four major types of pemphigus distinguished by their clinical features, autoantibodies, and laboratory findings: pemphigus vulgaris, pemphigus foliaceus, IgA pemphigus, and paraneoplastic pemphigus. Their associated risks of morbidity and mortality vary widely.

Pemphigus vulgaris is the most common type of pemphigus. The average age of onset of 40-60 years. Clinically, patients may present with mucosal blisters and/or erosions. The most common site of mucosal lesions is the oral cavity, where the disease often manifests. Autoantibodies are produced against desmoglein 3 or both desmoglein 1 and desmoglein 3 in pemphigus vulgaris. Blistering is commonly induced with mechanical pressure at th edge of a blister or on normal skin, which is known as the Nikolsky sign. Pemphigus vulgaris has two uncommon clinical variants, pemphigus vegetans and pemphigus herpetiformis. Lack of prompt treatment of pemphigus vulgaris leads to epitope spreading and increased difficulty in management. Treatment with systemic glucocorticoids is the current standard of care to achieve control of the disease, and nonsteroidal immunomodulatory agents such as azathioprine, mycophenolate mofetil, and dapsone can be used in conjunction to help reduce adverse effects associated with long-term glucocorticoid therapy.

Pemphigus foliaceus results from autoantibodies against desmoglein 1. Patients usually present with small, scattered superficial cutaneous blisters that transition into scaly, crusted erosions. The scalp, neck, and trunk are the most common sites of presentation, with sparing of the mucous membranes. Like pemphigus vulgaris, the Nikolsky sign is frequently present in patients with pemphigus foliaceus. However, pemphigus foliaceus is readily distinguished from pemphigus vulgaris by its lack of mucous membrane involvement. The mainstays of treatment of pemphigus foliaceus are similar to those of pemphigus vulgaris, with systemic glucocorticoids and nonsteroidal adjuvant therapies playing a major role in controlling disease.

IgA pemphigus may occur at any age and is characterized by vesicles that progress into pustules commonly present on the trunk and proximal extremities. Erythematous plaques are frequently present alongside the vesicles and pustules. Like pemphigus foliaceus, IgA pemphigus usually spares the mucous membranes. The lesions may be pruritic but can also be asymptomatic. All other types of pemphigus are caused by IgG autoantibodies; however, IgA pemphigus results from IgA autoantibodies against target keratinocyte antigens. Several reports have shown dapsone to be a successful first-line adjuvant therapy for the treatment of IgA pemphigus.

Paraneoplastic pemphigus affects both genders and can occur at any age. It is most commonly the result of a malignancy. It is not clear which autoantibodies are actually responsible for the pathogenicity of most cases of paraneoplastic pemphigus. Clinically, it presents as a combination of severe erosive stomatitis, polymorphous cutaneous lesions, and possible pulmonary involvement. Severe, painful, and erosive mucositis is ubiquitous to the disease, and oral erosions are the most common initial presentation of paraneoplastic pemphigus, with a characteristic involvement of the tongue. Skin lesions commonly manifest after the onset of mucosal lesions. Cutaneous involvement is highly varied from patient to patient, with lesions resembling bullae, inflammatory violaceous papules, targetoid lesions, and desquamation. Management consists of treatment of the underlying neoplasm and control of the disease itself using a variety of agents including immunosuppressants and rituximab.