Primary Cutaneous Cryptococcosis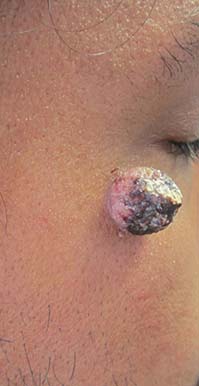 Natasha Cowan, University of California, San Diego, and Brooke Resh Sateesh, MD, San Diego Family Dermatology

Cryptococcal skin lesions may present in a variety of manifestations, including cellulitis, ulcers, pustules, granulomata, abscesses, herpetiform or molluscum contagium-like lesions. Primary cutaneous cryptococcosis (PCC) differs from its secondary counterpart in that it occurs due to local inoculation of the fungus as opposed to dissemination from a distant site of infection. Secondary cryptococcal skin lesions are more common than PCC. Cryptococcus neoformans is responsible for the majority of cases of PCC. This yeast is ubiquitous in the environment worldwide. Infection with Cryptococcus is more common in immunocompromised individuals; however, cryptococcal infection can occur in immunocompetent hosts as well.

The differential diagnosis upon initial examination may be wide. Patients generally present with a new skin lesion that proves to be refractory to conservative or traditional therapy. The upper extremities are the most common site of PCC. In almost all cases, a previous injury at the site of inoculation can be identified. Risk factors for exposure to Cryptococcus include residence in a rural area and contact with soil contaminated by avian droppings. The average time between skin injury and onset of symptoms has been reported as 2.5 days. Although rare, it is possible for a patient to present with multiple sites of infection in the absence of dissemination. This is almost exclusively seen in immunocompromised hosts.

Because of its widely variable clinical manifestations, PCC is a diagnosis made by culture and histology. Histopathology reveals numerous yeasts and a giant cell inflammatory process. In PCC, serology should not demonstrate Cryptococcus antigen, as the disease is localized to the skin. Patients diagnosed with PCC should undergo proper work-up to rule out the possibility of an underlying immunosuppressive condition, such as infection or malignancy.

Therapy for PCC can be solely medical or a combination of medical and surgical treatments. Surgical de-bulking in combination with 6-12 months of fluconazole is often used. Early treatment is essential, as cases of Cryptococcus dissemination secondary to PCC have been reported.

This patient's workup did not reveal any underlying immunodeficiencies. He worked with heating, ventilation and air condition (HVAC) in Spain. He was referred to infectious disease and admitted to the hospital for intravenous antifungal therapy.

Case and photo courtesy of: Natasha Cowan, BS, UCSD School of Medicine, and Brooke Resh Sateesh, MD, San Deigo Family Dermatology

Donna Bilu Martin, MD, is a board-certified dermatologist in private practice at Premier Dermatology, MD, in Aventura, Fla. More diagnostic cases are available at edermatologynews.com. To submit a case for possible publication, send an email to dermnews@frontlinemedcom.com.