Sweet's syndrome (acute febrile neutrophilic dermatosis)
A biopsy revealed an intact epidermis with intense infiltration of neutrophils in the superficial dermis, striking superficial edema, and a few lymphoid cells, consistent with Sweet's syndrome. The patient was started on prednisone with a slow taper and had resolution of her symptoms.
Sweet's syndrome (acute febrile neutrophilic dermatosis) is characterized by the sudden manifestation of painful edematous and erythematous papules, plaques, and/or nodules. As may be predicted by the descriptive name, the skin findings are often accompanied by fever, leukocytosis, and other extracutaneous manifestations. Sweet's syndrome is generally divided into three categories: classical (idiopathic), drug associated, and malignancy associated.
Classical (idiopathic) Sweet's syndrome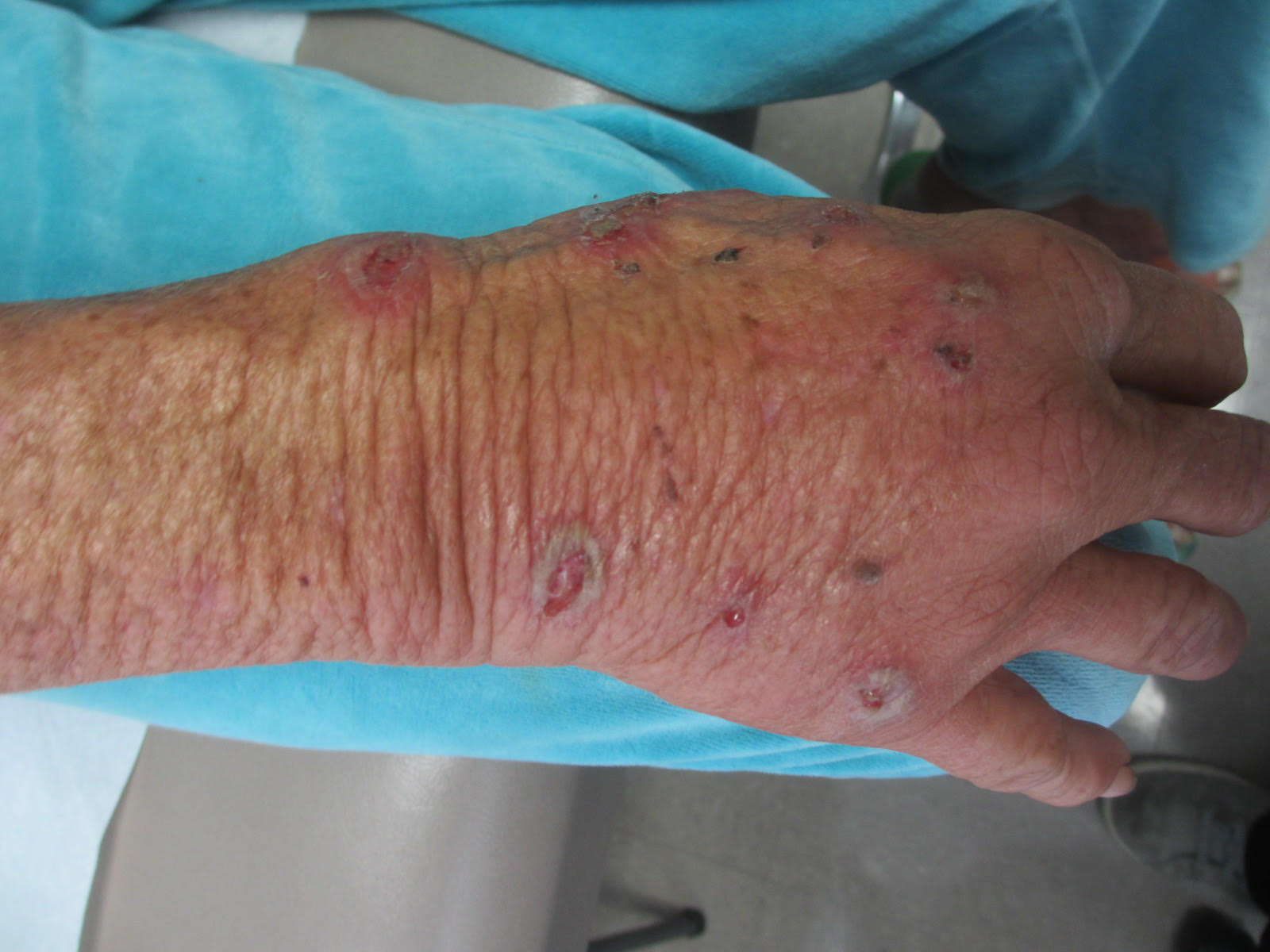 Classical Sweet's syndrome is characterized by the physical findings described above with a diffuse infiltrate consisting predominantly of mature neutrophils located in the upper dermis on pathology. All cases that meet diagnostic criteria that are not associated with malignancy or drug exposure are categorized as classical Sweet's syndrome. The majority of patients fall under this category. Classical Sweet's syndrome is commonly associated with a variety of medical conditions, the most frequent being infections, inflammatory bowel disease, and pregnancy. Treatment with systemic corticosteroids generally results in the rapid resolution of signs and symptoms of the disease. Other medications such as colchicine, potassium iodide, dapsone, and cyclosporine can be used when systemic corticosteroids are ineffective or contraindicated.

Drug-associated Sweet's syndrome

Drug-associated Sweet's syndrome must meet all the diagnostic criteria of the classical variant, as well as a temporal relationship for both the onset and resolution of symptoms associated with the initiation and cessation of a drug, respectively. Signs and symptoms of the disease process typically develop 2 weeks after the initial drug exposure. Granulocyte colony stimulating factor (G-CSF) is the most commonly reported inciting drug; however, an extensive list of potential offenders has been described in the literature. Although most cases will self-resolve within several weeks of drug cessation, treatment with corticosteroids can expedite recovery.

Malignancy-associated Sweet's syndrome

Malignancy-associated Sweet's syndrome may occur as the first revelation of an undiagnosed malignancy, as a complication of an already diagnosed malignancy, or as a warning sign of the recurrence of a previously diagnosed malignancy. Association with solid tumors is uncommon, with approximately 85% of reported cases occurring in patients with an underlying hematologic malignancy (most frequently, acute myeloblastic leukemia). The treatment of choice for malignancy-associated Sweet's syndrome is targeted at eradicating the underlying malignancy; however, most patients will receive a course of corticosteroids to aid in a faster resolution of symptoms. Very few cases of Sweet's syndrome associated with untreated melanoma have been reported in the literature, as patients with melanoma are much more likely to develop Sweet's syndrome as a result of anti-neoplastic drug therapy than as a result of the tumor itself.

While it is not completely clear if this patient's diagnosis was the classical type or malignancy associated, it is more likely the former as the patient improved with oral corticosteroids.

This case and photo are courtesy of Natasha Cowan, University of California, San Diego, and Nick Celano, MD, San Diego Family Dermatology.