THE MOTHER OF A 6-YEAR-OLD BOY brought her son into our clinic because he had recently developed abdominal pain and an itchy rash. She reported that he had a decreased appetite and was irritable. Four days earlier, the boy had complained of "stinging" pain in his right lower abdomen after playing in the yard. The next day, he developed an erythematous raised rash, which his mother thought was poison ivy. Within 48 hours, the rash developed vesicles and the mother began to suspect that her son had shingles. The child had no history of chickenpox, but had received a single dose of varicella vaccine as an infant.
The patient and his mother denied any recent fever, nausea, vomiting, respiratory symptoms, or other rashes. They reported that no family members were similarly affected. The child was otherwise healthy and not taking any medications. His exam was unremarkable except for the rash (FIGURE 1), which included healing vesicles and was limited to the T7 dermatome on the right side of his trunk.
FIGURE 1
A 6-year-old boy with a pruritic, 4-day-old vesicular rash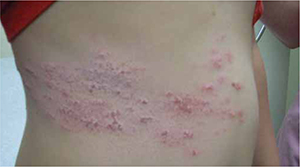 WHAT IS YOUR DIAGNOSIS?
HOW WOULD YOU TREAT THIS PATIENT?