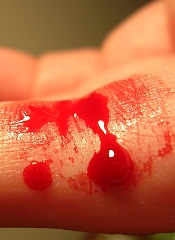 Bleeding finger
PARIS—Results of a phase 3 study indicate that the recombinant antihemophilic factor octocog alfa is effective as secondary bleeding prophylaxis in patients with severe hemophilia A.
The product appeared to be well-tolerated, and it reduced bleeding frequency as secondary prophylaxis (ie, treatment after multiple bleeding episodes have occurred), when compared to on-demand treatment.
These results were presented as a late-breaking abstract at the World Federation of Hemophilia 2012 World Congress, which took place July 8-12. The study—called SPINART—was sponsored by Bayer Healthcare, the makers of octocog alfa (marketed as Kogenate).
"Patients on the prophylactic regimen experienced significantly fewer bleeds than those using on-demand treatment," said the study's principal investigator, Marilyn Manco-Johnson, MD, of the University of Colorado at Denver.
"Those bleeds that did occur on the prophylactic regimen were predominantly mild-to-moderate."
Dr Manco-Johnson and her colleagues had randomized 84 patients with hemophilia A to receive either on-demand treatment or secondary prophylaxis at 25 IU/kg 3 times per week. The total follow-up was 3 years.
After a median follow-up of 1.7 years, the researchers observed significantly fewer total bleeding events per year with prophylaxis vs on-demand treatment. The median number of bleeding events were 0 and 27.9, respectively. However, 48% of patients in the prophylaxis arm did experience at least 1 bleeding event.
There were significantly fewer joint bleeds with prophylaxis than with on-demand treatment. The median number of joint bleeds were 0 and 21.2, respectively. But 38% of patients in the prophylaxis arm did experience joint bleeds.
In patients on prophylaxis who did experience bleeding, 20% of the episodes were severe, 44% were mild, and 36% were moderate. In patients receiving on-demand treatment, 19% of bleeding episodes were severe, 23% were mild, and 58% were moderate.
The researchers did not observe inhibitor formation in any of the patients. And adverse events were consistent with those observed in previous studies, including skin-associated hypersensitivity reactions, infusion site reactions, and central venous access device line-associated infections.