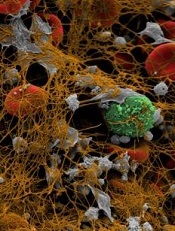 Thrombus
Credit: Andre E.X. Brown
The medical community was surprised when the Food and Drug Administration (FDA) approved the higher dose of dabigatran and not the lower dose last October for patients with atrial fibrillation.
Now three reviewers from the FDA's Center for Drug Evaluation and Research explain how the data gave them no other choice. Their account is published as a Perspective piece in the April 13 issue of The New England Journal of Medicine.
The FDA based its approval on the multicenter, active-control Randomized Evaluation of Long-term Anticoagulation Therapy (RE-LY) trial. It was designed to show the noninferiority of dabigatran, either 110 mg or 150 mg, compared to warfarin in reducing the risk of stroke and systemic embolism in patients with nonvalvular atrial fibrillation.
The study investigators found both dosages to be noninferior to warfarin. However, the 150-mg regimen was significantly superior to both warfarin (P=0.0001) and the 110-mg dose (P=0.004).
The FDA review team attempted to identify subsets within the RE-LY patient population that might benefit more from the lower dose. They focused on elderly patients, patients with renal function impairment, and those with previous bleeding episodes.
And in fact, the FDA reviewers said they were "unable to find any population for whom the availability of a lower dose would improve dabigatran's benefit-risk profile."
In the elderly, the rate of stroke or embolism was lower with the 150-mg dose, although the rate of major bleeding was higher. However, the reviewers assumed that "most people would agree...that the irreversible effects of strokes and emboli have greater clinical significance than nonfatal bleeding."
In the subset of patients with moderate renal impairment, the rate of stroke or embolism with 150-mg was about half that of the lower-dose group and the rate of bleeding was similar. Patients with severe renal impairment were excluded from the trial.
And for those patients at higher risk for bleeding because of previous hemorrhage, they experienced similar rates of hemorrhage in both dabigatran groups and the warfarin group.
The review team commented, "[I]t appeared clear that most, if not all, patients should receive the higher dose."
The review team pointed out that the noninferiority of the lower dose of dabigatran was less strong when it was compared with warfarin dosing that was well managed, which, they added, "is not always achieved."
"Ultimately," they said, the decision to approve only the higher dose "was based on our inability to identify any subgroup in which use of the lower dose would not represent a substantial disadvantage."
The Perspective piece was written by B. Nhi Beasley, PharmD, Ellis F. Unger, MD, and Robert Temple, MD.