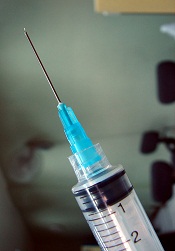 A novel therapy can prevent bleeding episodes in patients with hemophilia B, results of an industry-funded study suggest.
The goal of the phase 3 study, called B-LONG, was to evaluate the safety and efficacy of a long-lasting recombinant factor IX Fc fusion protein (rFIXFc, also known as eftrenonacog alfa and Alprolix).
Researchers found that a single injection of rFIXFc was sufficient to control more than 90% of bleeding episodes in males with hemophilia B.
In addition, none of the patients developed inhibitors, and the factor was generally well-tolerated.
The companies developing rFIXFc, Biogen Idec and Sobi, announced these results on September 26.
"Our companies are pioneering the application of Fc fusion technology to extend the half-life of clotting factors," said Geoffrey McDonough, MD, Chief Executive Officer of Sobi, a biopharmaceutical company based in Stockholm, Sweden.
"Fc fusion technology utilizes a naturally occurring recycling pathway that has been successfully employed in other therapeutic areas. This approach holds promise for combining more consistent protection with fewer injections."
Study design
To determine if rFIXFc does, in fact, provide bleeding protection with fewer injections, researchers administered the factor to 123 male patients with hemophilia B.
Patients were 12 years of age and older and had a history of at least 100 prior days during which they received 1 or more injections with any currently marketed factor IX product.
The investigators divided patients into 4 treatment arms. In Arm 1, 63 patients received weekly prophylaxis with rFIXFc. The starting dose was 50 IU/kg, and it was adjusted to maintain trough factor levels sufficient to prevent bleeding.
In Arm 2, 29 patients received individualized interval prophylaxis with rFIXFc. The factor was administered at 100 IU/kg at an initial interval of 10 days. It was subsequently individualized to maintain trough factor levels sufficient to prevent bleeding.
In Arm 3, 27 patients received episodic rFIXFc as needed to control bleeding. And in Arm 4, 12 patients who required major surgery received perioperative management with rFIXFc. Eight patients in this arm were also enrolled in other treatment arms.
Efficacy data
Overall, 93.5% of patients completed the study. Researchers assessed control of bleeding in all patients who experienced a bleeding episode while on study. In total, 90.4% of bleeding episodes were controlled by a single injection of rFIXFc.
The overall median annualized bleeding rates—including spontaneous and traumatic bleeds—were 2.95 in the weekly prophylaxis arm, 1.38 in the individualized interval prophylaxis arm, and 17.69 in the episodic treatment arm.
The perioperative management arm consisted of 12 patients undergoing 14 major surgical procedures. The treating physicians rated the hemostatic efficacy of rFIXFc as excellent or good in 100% of these surgeries.
The researchers also analyzed the pharmacokinetics of rFIXFc. The approximate terminal half-life of rFIXFc was 82 hours, compared to 34 hours for another recombinant factor IX product called BeneFIX.
This suggests that rFIXFc offers longer-lasting protection from bleeding in patients with hemophilia B, said Glenn Pierce, MD, PhD, Chief Medical Officer of Biogen Idec's hemophilia therapeutic area.
"Currently, prophylactic treatment of hemophilia B requires intravenous injections up to 3 times a week," he said, "which makes the prospect of a longer-lasting factor IX therapy very exciting."
Safety data
The researchers found that rFIXFc was generally well-tolerated. None of the patients developed inhibitors, and none reported anaphylaxis.
The most common adverse events—with an incidence of 5% or greater—occurring outside of the perioperative management arm were nasopharyngitis, influenza, arthralgia, upper respiratory infection, hypertension, and headache.
One serious adverse event may have been drug-related. The patient experienced obstructive uropathy in the setting of hematuria. However, he continued to receive rFIXFc, and the event resolved with medical management.
Next steps
Based on the overall favorable outcomes of this study, Biogen Idec and Sobi are planning to submit a Biologics License Application for rFIXFc to the FDA in the first half of 2013. They also plan to submit an application to the EMA following results of a similar study in children, called Kids B-LONG.
Kids B-LONG is a phase 3, open-label study in previously treated children who are younger than 12 years of age and have been diagnosed with hemophilia B. The study is actively recruiting patients.
Researchers are also evaluating rFIXFc in the B-YOND study, which is a long-term, open-label extension study for patients who completed the B-LONG study or who will complete the Kids B-LONG study.