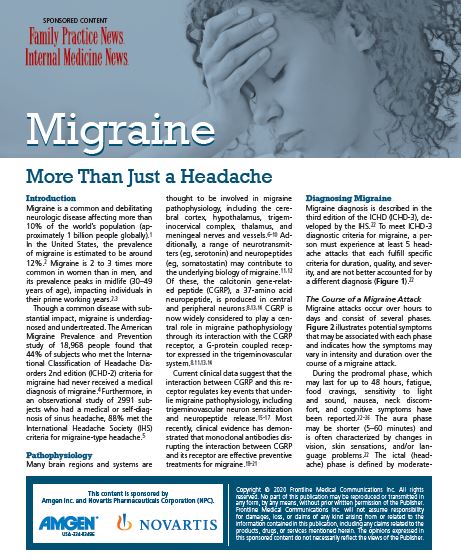 Though a common neurologic disease with substantial impact, migraine is underdiagnosed and undertreated. 1,2 The American Migraine Prevalence and Prevention study of 18,968 people found that approximately 44% of subjects who met the International Classification of Headache Disorders 2nd edition (ICHD-2) criteria for migraine had never received a medical diagnosis of
migraine.2
This sponsored content discusses the pathophysiology, characteristic symptoms, and burden of migraine, as well as how to help facilitate the diagnosis of migraine in the primary care setting.
This content is sponsored by Amgen Inc. and Novartis Pharmaceuticals Corporation.
Reference:
1 GBD 2017 Disease and Injury Incidence and Prevalence Collaborators. Lancet. 2018;392(10159): 1789-1858.
2 Diamond S, Bigal ME, Silberstein S, Loder E, Reed M, Lipton RB. Headache. 2007;47(3):355-363.
USA-334-83661