Article
Author:

James Q. Del Rosso, DO
Diane Thiboutot, MD
Richard Gallo, MD
Guy Webster, MD
Emil Tanghetti, MD
Lawrence F. Eichenfield, MD
Linda Stein-Gold, MD
Diane Berson, MD
Andrea Zaenglein, MD
The third article in this 5-part series reviews systemic therapies used to treat cutaneous rosacea based on consensus recommendations from the...
Article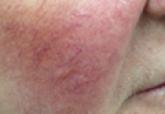 Author:

James Q. Del Rosso, DO
Diane Thiboutot, MD
Richard Gallo, MD
Guy Webster, MD
Emil Tanghetti, MD
Lawrence F. Eichenfield, MD
Linda Stein-Gold, MD
Diane Berson, MD
Andrea Zaenglein, MD
Rosacea is a common clinical diagnosis that encompasses a variety of presentations, predominantly involving the centrofacial skin. Reported to...