Article
Author:

Sara A. Berg, MD
Roberto A. Novoa, MD
Campbell Stewart, MD
Joseph F. Sobanko, MD
Christopher J. Miller, MD
Misha Rosenbach, MD
Sarcoidosis is a chronic multisystem disease characterized by the formation of noncaseating granulomas in multiple organs, including the skin. An...
Article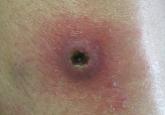 Author:

Yunyoung C. Chang, MD
Campbell Stewart, MD
Emily Y. Chu, MD, PhD
Leukemia cutis (LC) is characterized by the infiltration of malignant neoplastic leukocytes or their precursors into the skin and is most often...