Article
Author:

Roberto Arenas, MD
Ramón Felipe Fernandez Martinez, MD
Edoardo Torres-Guerrero, MD
Carlos Garcia, MD
Mycetoma is a chronic infection that develops after traumatic inoculation of the skin with either true fungi or aerobic actinomycetes. The...
Article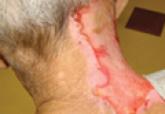 Author:

Alison A. Fischer, MD
David M. Adelson, MD
Carlos Garcia, MD
Ulceration is not a typical feature of notalgia paresthetica or brachioradial pruritus; a history of self-mutilation due to underlying paresthesia...