Article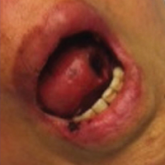 Author:

Laura Englander Levin, MD
Cynthia Magro, MD
James Horowitz, MD
Joanna Harp, MD
Hydralazine-induced small vessel vasculitis is a rare entity with a limited number of cases reported in the dermatologic literature...
Article
Author:

Raymond Wu, MD
Jonathan H. Zippin, MD
Cynthia Magro, MD
Sézary syndrome (SS) is a rare, aggressive form of cutaneous T-cell lymphoma. When patients die from SS, it frequently is due to the sequela of...