Article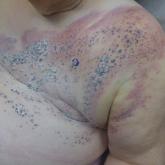 Author:

Karen A. Smith, MS, PA-C
Juliana Basko-Plluska, MD
Anisha D. Kothari, PA-C
Amy J. Derick, MD
Cutaneous metastases occur more often in the setting of breast carcinoma than other malignancies in women. The authors present the case of a...
Article
Author:

Kristen Wozniak, FNP
Sabina Shamayeva, BS
Juliana Basko-Plluska, MD
Amy J. Derick, MD
A 91-year-old white man with a history of atrial fibrillation, benign prostatic hyperplasia, dysphagia, gastroesophageal reflux disease,...