Article
Author:

Jason Jacob, MD
Lisa Kugelman, MD
Squamoid eccrine ductal carcinoma (SEDC) is an extremely rare cutaneous tumor of unknown etiology. We report the case of a 77-year-old man with a...
Article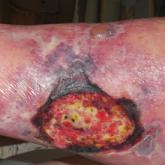 Author:

Sandhya Chowdary Deverapalli, MD
Jason Jacob, MD
Frank Santoro, MD
An 80-year-old woman with a medical history notable for obesity (body mass index, 31.2), type 2 diabetes mellitus, hypertension, and chronic...